Daily Jackpot
Introducing the Daily Jackpot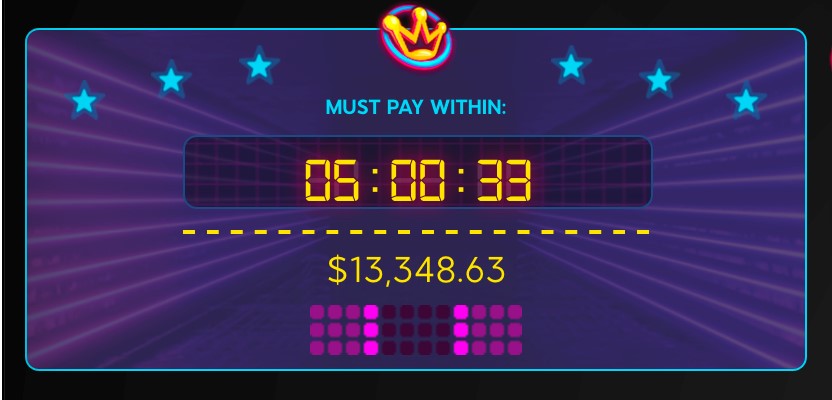 Everybody loves a progressive jackpot – they're stuffed with cash, and they can change your fortunes instantly! A percentage of every bet in a progressive jackpot game goes towards the progressive jackpot prize pool. If you happen to be the lucky player who wins, you're in the money, big time!
888.com is proud to introduce one of the most innovative changes in the jackpot arena – the Daily Jackpot. As its namesake suggests, you can win a jackpot daily with these fantastic online casino games. Unlike traditional progressive jackpots which can take weeks or months to pay out, these Daily Jackpots drop before the clock strikes 12 at midnight.
Imagine playing your favourite video slot machine game with a progressive Daily Jackpot? It's a dream come true! True to form, the jackpot is shared with other games in the Daily Jackpot, to ensure that anyone playing these Daily Jackpot games stands a chance of winning. But here's the catch: the closer the time gets to the guaranteed payout time, the bigger your chance of winning.
Curious to know how much time you've got left? Check out the countdown timer, it's that easy! There are other ways to increase your chances of winning – notably the size of your bets. The more you bet, the bigger your chance of winning. But remember, 888.com encourages responsible gameplay at all times. So never play more than you can afford to lose. Don't chase your losses with Daily Jackpot games, there's another jackpot waiting to be won tomorrow!
How Do You Win Daily Jackpot Games?

All it takes to win is a single spin on an eligible Daily Jackpot slot machine game. It couldn't be easier folks! One player scoops the prize every day, because the Daily Jackpot must drop before the timer runs out. There are certain exclusions, notably the Bonus Stages of play, and during Free Spin rounds.
Once you win the Daily Jackpot, your account will be credited with the full prize and all other players playing Daily Jackpot games will be notified. Don't fret if you're still playing while the jackpot has been won – the Daily Jackpot resets within 15 seconds and a new guaranteed Jackpot is waiting to be won the very next day. Sound like fun? Come on over to 888casino and blaze a trail with your favourite online slot machine games.
Amazing Selection of Daily Jackpot Games to Play

It's worth pointing out that you don't need to form specific combinations of symbols to win the Daily Jackpot. It's a completely random payout which is awarded to players based on the countdown timer and the size of your bets. There is no limit to the size of the jackpot either – it can get really big, depending on the number of players participating. Since 3% of every bet goes towards the Daily Jackpot prize pool, it's safe to say that more players mean bigger jackpots.
Anyone who plays real-money online casino games on our Daily Jackpot slots is eligible to win. Are you ready to check out some of the hottest Daily Jackpot slots? We've got Red Tiger Daily Jackpot games like Dragon's Fire Megaways, Mystery Reels, Rainbow Dragon's Fire, Pirates Plenty 2, Well of Wishes, Treasure Mine, Devil's Number, Lucky Wizard, Spin Town, Thor's Lightning, and Wild Circus.
There are plenty more where those came from, and we are thrilled to bring you the most exciting addition to the jackpot gaming arena. Daily Jackpots are reeling in players by the truckload, and once you start playing, you'll know exactly why everybody loves these online casino games. We crown winners every day with our Daily Jackpot games!